Company Description
In business for over 40 years, we're a fabricating Company that offers an extensive selection of sales & rentals of custom or pre-packaged oil and gas production equipment including Line Heaters, Separator Packages, Meter Skids, Dehydration Facilities, Treaters, Headers, Pipe Spooling and Fuel Gas scrubbers. We can also recondition or repackage a customer's existing equipment.

The fabrication shop is certified through the Alberta Boiler's Safety Association for Welding Procedure #1043.2 and Quality Control Program #AQP 1169.

Equipment that has been purchased by a customer, or a customer's equipment that has been refurbished by Priority Projects Ltd., can be stored without charge for reasonable but limited periods of time.
Photos & Videos
1 photos
Products & Services
Structural welding , radiography , sandblast , buildings & enclosures , Pressure welding SMAW up to 8" thick , Pipe Fitting , instrumentation , pwht , steam cleaning , prime & paint , pipe spooling , Custom manufacturing , vessel repair & alterations , Refurbishing oilfield equipment , pressure welding smaw up to 8" thick , Hydro testing to 10000 PSIG , Rental & manufacturing
Keywords
Separator rentals , Pressure welding , Vessel repair & alterations , Fuel Gas scrubbers , pipe fitting , INSTRUMENTATION , Line heater sales , Oilfield Skids , SMAW up to 8" thick , Pipe spooling , Separator sales , Radiography , Separator Rental and Sales , Custom oil & Gas Production Equipment , Structural steel skids , Buildings & Enclosures , Line Heater Rental and Sales , Sandblast , Odorant vessels , Steam Cleaning , PWHT , Custom Spooling , Custom pipe spooling , vessel repair and alterations. Pressure welding SMAW up to 8" thick. , Line heater rentals , Refurbishing oilfield equipment , vessel repair and alterations. pressure welding smaw up to 8" thick. , structural welding
Reviews and Recommendations
Powered by COSSD
Please help us to connect users with the best local businesses by reviewing Priority Projects Ltd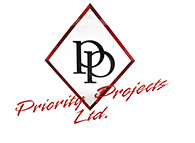 Priority Projects Ltd
Address:

1603 - 8 St Nisku, AB

Phone:

(403) 236-1896

Email:

info@priorityprojects.com
Monday

08:00AM - 04:30PM

Tuesday

08:00AM - 04:30PM

Wednesday

08:00AM - 04:30PM

Thursday

08:00AM - 04:30PM

Friday

08:00AM - 04:30PM

Sat, Sun

Closed