Company Description
An industry leader since 1968, Commercial Sand Blasting & Painting is recognized throughout Western Canada for superior corrosion protection services. Committed to safety, quality and customer service, our journeymen and apprentice tradesmen are continually upgrading their knowledge of new coating technologies, application processes, and safety procedures. From small jobs to large-scale contracts, we take pride in our workmanship and continually strive to surpass customer expectations. That's what makes us an industry leader… You can depend on us for the best!
Photos & Videos
1 photos
Print Ads
1 ads
Products & Services
Tanks , Vessels , Dry Abrasive Blasting , Waterjetting , water blasting , Non-Stick Coatings , Waterproofing Membranes , Abrasion Resistant Linings , Chemical Resistant Linings , Potable Water Linings , Engineered Tile Lining Systems , Rubber Lining Designs And Installation , Fireproofing , Structural Steel , Cementitious , Intumescent , Inspections And Site Surveys , Metalizing , Fiberglass Repairs And Linings , Spray Polyurethane Foam , Lead Abatement , Asbestos Abatement And Encapsulation
Keywords
Fibreglass Repairs and Linings , spray polyurethane foam , lead abatement , asbestos abatement and encapsulation , waterjetting , Tile Lining , Water Blasting
Reviews and Recommendations
(1)
Where is best place to get a frame sandblasted and painted in and around Saskatoon? Best as in reasonable priced and do a decent job.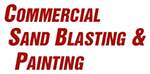 Commercial Sand Blasting & Painting
Address:

4 Peters Avenue North Corman Industrial Park Saskatoon, SK

Phone:

(306) 931-2820

Fax:

(306) 931-3344
Monday

08:00AM - 04:30PM

Tuesday

08:00AM - 04:30PM

Wednesday

08:00AM - 04:30PM

Thursday

08:00AM - 04:30PM

Friday

08:00AM - 04:30PM

Sat, Sun

Closed